Why Do I Wake Up with Back Pain?
SpineOne has been treating back pain in all its forms for almost twenty years. In that time one of the most common answers we hear when we ask how our patients' back pain started is, "My back hurts when I wake up." Waking up with spinal discomfort is extremely common, whether it's a sore back, neck pain, or a headache. Even patients who live active, pain-free lives during the day can wake up to morning back pain and stiffness. It's scary, but does it indicate a serious problem?
Morning Back Pain Causes & Treatment
How SpineOne diagnoses and treats morning back pain depends on a lot of factors, including a patient's history and the exact source of their pain. Sometimes simple posture changes can help while some patients will benefit from physical therapy. In some cases, pain management therapies can relieve acute pain long enough for long-term lifestyle changes that promote a healthy spine.
What Causes Back Pain to Flare Up in the Morning?

Almost all conditions we treat at SpineOne have their roots in inflammation. Inflammation in the spine restricts space, which leads to pain. While studies have shown that morning is a common time for people to experience pain from inflammation, they haven't shown that the connection is strong or exclusive. This type of pain in the morning is a leftover symptom from either inflammation or a structural anomaly in your spine restricting space for discs and nerves. These symptoms may lessen as you wake up and get moving.
Questions about Morning Back Pain?
Same Day Appointments Available
Degenerative Disc Disease (DDD) occurs when spinal discs between your vertebrae begin to deteriorate. This issue begins often without an original accident and is a product of aging. DDD can cause intense pain or discomfort that may be worse in the morning, due to higher pressure inside the disc.
Other symptoms of DDD can includ e:
leg muscle weakness or foot drop
numbness and tingling in the arms and legs
pain that may get worse with sitting, lifting, or bending
pain that improves with walking, moving, or changing position
Patients who suffer from chronic back pain may experience a worsening of their symptoms when they wake up. This has a lot to do with the inflammation and restriction of space in the spine we mentioned above and because of muscles tensing to protect structurally compromised sections of the spine while we sleep. In these cases, it's important to examine your sleeping habits and posture to determine if your sleep position can be changed to offer more stability to your spine.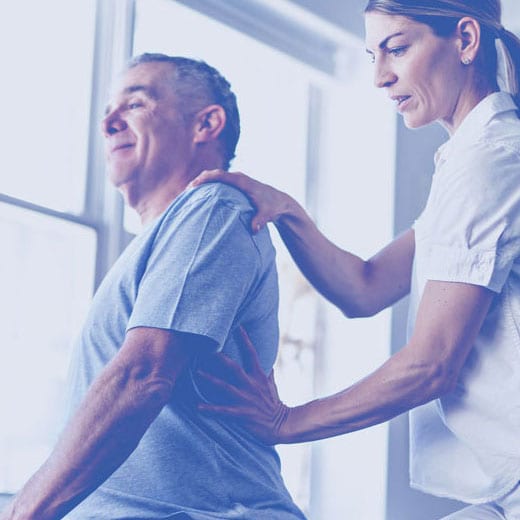 How you sleep may not only reduce level of comfort but also increase the pain you feel when you wake up. Poor sleeping positions can cause back strain and uncomfortable pressure as your spine's natural curve flattens, restricting the space for discs and nerves.
Same Day Appointments Available
How can Morning Back Pain be Treated?
Changing Your Sleep Position
Simple adjustments to your posture can improve your level of comfort when you wake up and, in some cases, can relieve morning back pain completely. You can also try placing supportive pillows around your body to help keep your spine correctly aligned while you sleep:
a pillow underneath your knees if you sleep on your back can align the spine better and reduce lower back pain
a pillow between the legs of a side sleeper better aligns the hips and spine
a pillow underneath the lower abdomen of a stomach sleeper can reduce the curvature in the lower back
Stretch When you Wake Up
Morning back pain can often be relieved by stretching right before you get out of bed. While you're lying on your back, reach your arms over your head and reach your feet in the opposite direction. Hold this position for as long as you comfortably can, then bring your knees to your chest. Stretching your lower back in this way can relieve any compression that occurred during the night.
Once you sit up, plant your feet firmly on the ground, shoulder-width apart. Reach your arms over your head and then sway from side to side. These stretches are some of the basic movements in the McKenzie Method for musculoskeletal care emphasizing patient empowerment and self-treatment.
Is it Time for a New Mattress?
If your mattress is old or not supportive enough it may not support your weight or body shape. This lack of support can cause pressure on your spine and cause you to wake up with back pain. Manufacturers recommend that mattresses be replaced every 10 years, or when you see visible sagging or indentations where you have slept. If you decide to get a new mattress, be sure to choose one that is comfortable and supportive.
Still in Pain? Consider Seeing a Doctor
If you routinely wake up with extreme morning back pain, or your pain hasn't responded to self-care measures such as stretches and a new mattress, it might be time to consider more immediate relief. Ask your doctor if you can take non-steroidal anti-inflammatory drugs (NSAIDs), such as ibuprofen. Acetaminophen (Tylenol) may be another option for occasional back pain if you can't take NSAIDs.
If over-the-counter medications don't help, your doctor will probably send you for imaging and diagnosis to determine the root cause of your morning back pain and suggest a course of pain management therapy to relieve your immediate pain. Your doctor might also suggest exercise therapy to help correct the underlying skeletal or muscular problems that led to your pain.